A special nickname for a unique racing line on ELAM's annual track training day at the French Circuit de Folembray: read all about "Flymo" Andy's adventure!
About Me
To set the scene, if you like. Like many of you I had been away from motorcycling for a while – in my case, some 34 years. So long, in fact, that it was only when I was struggling to start the process of applying for a full bike licence that it came to light I had passed my bike test in 1982!
So about a year ago I bought a nice old Honda VFR800 bike and started again, and soon realised a lot more training and help was required, hence BikeSafe, then IAM and you lot! Really enjoyed the course, especially the group dynamic and support from Full Members and later on the helpful Observers, some of whom managed to keep up with me in traffic. Well, I was once a despatch rider and still had most of the bad habits.
The Trip
Fast-forward to this summer, and receiving messages about spaces left for the Folembray trip to Soissons near Paris and being advised that I would love it. I had not travelled further than the Essex Coast on an All-Abilities ride, but the trip was being led by Marek W and Paul G both of whom I knew slightly and had faith in. After meeting up near Stratford we were led on a steady mostly motorway route to the south coast and a ferry terminal. Some more experienced riders had made their own way there, and a larger group embarked. I had read about slippery metal ramps and tricky conditions, but the only stress was working out how to strap the bikes down, with no help from the crew. Funny how the older I get the less I know.
Riding in a group on French roads soon allayed my initial concerns, helped also by having listened to Paul Gillett's evening talk on continental riding earlier in the summer. It was also far easier to adapt on a bike rather than a car, but roundabouts needed care. The issue with side roads having right of way never surfaced, thankfully, but again riding in a group helped, French drivers did seem more aware of motorcycles and I did not feel crowded or hassled like on UK roads.
French motorways were good, not too busy, drivers generally considerate apart from some tailgating (which I do find really annoying) and easy enough to get fuel and food. Getting through the first couple of tolls was a bit stressful as I never got on with French (the language or the people) and expected to have problems. Credit card and pin, and somewhere to quickly stash them and the toll ticket before the barrier drops back. Easy peasy.
The Hotel
Awful time, having to share with a KTM rider who snored. Could not get a refund from EuroTrax the organiser!
Made the best of it, and in a small group of Associates went for a walk around the local area and couldn't find a restaurant so back to the Hotel for a late supper. Found out about a local event near the main church and joined in with local celebration of 100-year anniversary of the ending of World War One hostilities in local region. There was a very big turnout of local people of all ages, and very impressive fireworks and commentary. Couldn't imagine a similar scene in a small English town but maybe I am too much London-focussed.
The Track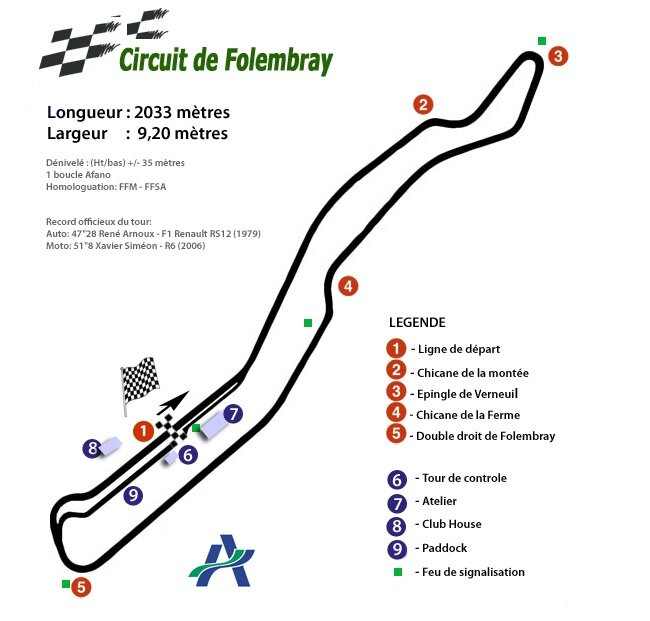 Only a short ride to the simply laid out track in a lovely wooded area. No big elevation changes nor complex bends to learn, or so it seemed to me. We were soon briefed by track safety experts as well as our own ELAM instructors and the planned groups and timed sessions explained.
I was so glad I asked to go into the most cautious group, as it was smaller and gave us more time with our instructors. And I needed it! Jacqui showed us the lines to take, highlighted the braking and apex points, and generally settled us down. Sessions passed quickly, but gradually I felt able to brake later and harder, get my gear changes done before the bends, stop trying to get my bum out of the saddle and just move my upper body to assist in weight transfer. Knee down was not going to happen, unless I dropped the bike in the car park!
I underestimated the heat and got quite dehydrated to the extent of getting cramps whilst on track. Not clever, and actually unsafe. One session aborted and a lesson learned.
Towards the end of the day I made what I thought would be a classic multi-bike overtake before the main chicane only to realise that my subsequent braking was too late and I aborted the bend and cut across the grass infield. Oh, the shame and with three witnesses including my instructor! Never mind, it got me a prize at the evening meal 😂😂😂!
Big thanks to all who made this such a great trip, at Eurotrax and ELAM. I had a great time and learnt a lot, like why I really need an adventure bike, choosing a compatible roommate, and that learning should never stop. And that the French are OK 👍
Thank you, Andrew, for contributing this feature article to ELAM News. To share your story, e-mail the Editor, Parveen: progression@elam.org.uk